If you have any information about forthcoming events or interesting information about Chelmsford's history, please feel free to share it through this site. Please e-mail to info@thetoastmaster.co.uk
Richard Palmer was appointed to work in Chelmsford as the Town Crier by Essex County Council together with Essex Police, Chelmsford Prison Service and the Crown Prosecution Service in 2008. Richard then made his first appearance as town crier in September 2008 and appeared again on 13th September 2009.
Working in conjunction with the Essex Police Museum and the Prison Service, Shire Hall was the scene for visitors who went on a trip into the past to see the types of punishments criminals used to receive as part of a much larger public open day and special event partnered by English Heritage. In 2010 the English Heritage Heritage Open Days fell between 9th to 12th September and in 2011 the Heritage Open Days were 8-11 September. This was England's annual celebration of local history, architecture and culture, where sites all over the country were open for visitors with no door entry charges.
The picture above right shows the Shire Hall at the top of the High Street.
Part of our team of town criers from The English Toastmasters Association working in Ipswich on Wednesday 10th April 2013 to lanunch a new App for All About Ipswich.
Free download is available from www.allaboutipswich.com or the App Store.
From left to right we have J. C., K. B., Richard Palmer, Chris Bradley and R. H.
Great day, great guys and lovely clients. I have never seen five town criers work together on a project before for the same client, in the same town on the same day.
Quite an experience when we are all crying in unison. The filming for the advert after two hours in the town crying was different and we made it fun.
Our support team for the day included Linda Palmer and Sara.
.
On Sunday 14th September 2008 and Sunday 13th September 2009 visitors to Shire Hall in Chelmsford were able to climb aboard a modern prisoner transport vehicle currently in use by SERCO. Modern transport vehicles can contain six to eight individuals cells and vistors were able to feel what it is like to be taken to and from courts and jails under escort.
Those wanting to truly get into the spirit of incarceration could even try on paper pants prisoners are made to wear. In order to help everyone better understand how and why the criminal justice system evolved, staff from Chelmsford prison staged a re-enactment of a public execution.
From the prisoners historical archive, they brought gallows and other artefacts of the hangmans trade, including a noose, leather cuffs and gloves. Members of the public could take a closer look at these items from thr past, and see the prison staff take the roles of a condemned prisoner, Govenor, Chaplain, Prisoner Escort and hangman.
There was a fantastic falcanry flying display in the County Room on the first floor of Shire Hall with two birds actually flying in front of visitors in that room. This display was put on by the prison service who brought three birds to the exhibition for the static display. Visitors to that demonstration had a very rare treat and the children who the European Eagle Owl flew over will probably never forget the experience.
The Picture above left is of our wonderful Chelmsford Cathedral sited between Duke Street and New Street.
Three times during the day and performed in costume, visitors had the rare opportunity to see something that was at one time a regular occurance outside Shire Hall.
Inside Shire Hall, Essex Police Museum visitors learnt about some of the most famous Essex trials and their infamous defendants. In the cells and tunnel underneath Shire Hall, there were displays of restraint gear and tours of the cell complex including the Edwardian tunnel that once led to the old police station on the corner of Waterloo Lane.
The picture above right shows the King Edward VI Grammar School in Broomfield Road.
In the family court visitors were able to feast their eyes on an incredible array of paraphernalia from confiscated weapons to photographs of the stars of the original film of porridge, which was filmed at Chelmsford Prison.
Visitors were able to see first hand how the police and prison staff use riot prevention gear and learn just how incredible the nose of a sniffer dog really is. The Prison Service also showed visitors what a modern prison cell is like, and how prisoners now take part in a range of activities aimed at helping rehabilitate them into society, turning them away from a life of crime. This Heritage Open Days were part of the Year of Culture in Essex
The picture above left shows Chelmsford Museum near the top of Moulsham Street.
"We're are pleased to be able to have this opportunity to have linked up with Essex County Council in 2008 to give the people of Essex an insight into the past of Chelmsford Prison, while also making them better informed about the modern Prison Service, and how we work with offenders to turn them away from further offending" Lindsay Whitehouse - Deputy Governor of Chelmsford Prison.
To book Richard's services as your town crier
please call him on
01245 222392 or 07971 409977 at any time
Richard appeared as Chelmsford's Town Crier
on An English Heritage Open Day Event in association with the Essex Justice Board, Essex Police, Essex County Council and Essex Prison Service on Sunday 13th September 2009
Inside Justice - Your criminal justice system was unveiled at Chelmsford's Shire Hall and HM Prison Chelmsford and was free for all the family!!
Visitors discovered how Shire Hall has been linked to criminal justice in Essex for almost two centuries and witnessed a mock court hearing, re-enactment of a 19th century execution, control and restraint demonstrations and birds of prey, trained by young offenders
They also met dogs and handlers from Essex Police Dog Unit and were able to go into a mock prison cell - and discover how prisoners live and how prisoners are transported in a SERCO escort vehicle.

Displays of historic items from Essex Police Museum were also on view in the County Room as well as a display showing the history of Springfield County Gaol

Visitors were able to see how youth justice has changed over 100 years and there was also a display of artwork by Essex prisoners - on sale in aid of Victim Support in Essex

Visitors were able to try
What it was like to be in the stocks

The courtroom game

Dressing up in historic clothing

The Criminal Justice Board Challenge
and hear
Historic Essex tales told by a professional storyteller which were

suitable for all the family
About Richard and why he is passionate about life and living in Chelmsford
Richard Palmer is also a very experienced toastmaster and is a founder member of The English Toastmasters Association. If you are looking for a wedding toastmaster or a toastmaster for any type of function then please feel free to contact me.
England is blessed with an excellent Association for Toastmasters, who have around 12 members here in Essex. For an excellent toastmaster to look after your function please visit www.englishtoastmasters.co.uk and choose one of our members to take care of you.
Our Trafalgar Day Meeting on 21st October 2008 at The County Hotel, Rainsford Road, Chelmsford, and another excellent picture of some of our members from Dave Court. Thank you for all your help Dave and for an excellent presentation entitled "My mates in the wedding business".
If only more people in this business understood the value of strategic alliances, there would be stronger teams out there to give better performance for their clients at functions. Our members certainly appreciated your enlightening presentation and I know they all would enjoy working with you.
David Court's work is first class and you will be guaranteed a quality and fun photo shoot at your wedding, when using his services. Talk to David about his dream team and to make sure that you get the day of your dreams and memories that you will cherish forever.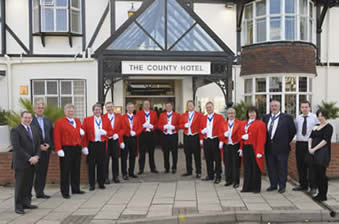 There was a special meeting for our member toastmasters on Trafalgar Day, Tuesday 21st October 2008 at The County Hotel, Rainsford Road, Chelmsford. The meeting started at 10.30am, although reception was from 9.00am and some of us were there for an early breakfast.
The meeting finished at 5.00pm after an interesting afternoon and a very enjoyable lunch.
The headquarters of the English Toastmasters Association is based in Danbury, just outside Chelmsford and our National meetings have now been held in Chelmsford for the last four years. The County Hotel in Rainsford Road is an excellent venue for our meetings and is highly recommended for any corporate events where you are looking for quality service and excellent value for money.
The picture below is of the installation of our first Honorary Fellow Member of the English Toastmasters Association, Patrick Stevenson, who is the great grandson of William Knightsmith, the first toastmaster to wear the red tailcoat. Here Patrick is shown receiving his certificate of Honorary Fellow Membership from Lord of the Manor of Romans Fee, Writtle, Essex Richard Oscroft MBE. Richard also just happens to be the grandson in law of Harold Dean, the next distinguished toastmaster who wrote the book, My Lords, Ladies and Gentlemen. Patrick has been made a Fellow due to his kindness to our Association and his help with our research into the history of this profession. His twin brother Richard is also being offered an honorary fellowship of our Association. We are most grateful for their help, support and kindness to our Association. Patrick delivered an excellent and very interesting presentation about the life of his great grandfather at our Gt. George's Day Meeting.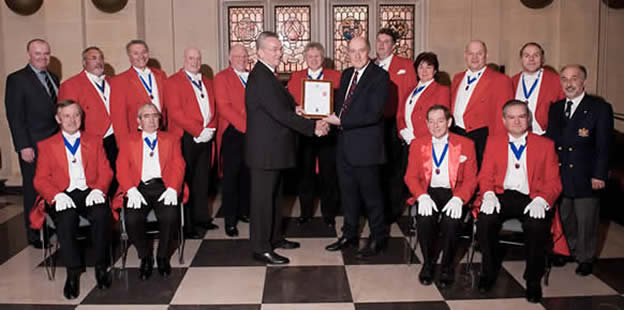 The picture above was taken by David Islip of David Islip Photography.
Thank you David for your support with our National Meeting and all you ongoing help.
A note to thank you for your hospitality yesterday at the toastmasters' lunch. It was very enjoyable and informative so I now have more knowledge of the organisation .Thanks again and speak soon. Stuart Rawlings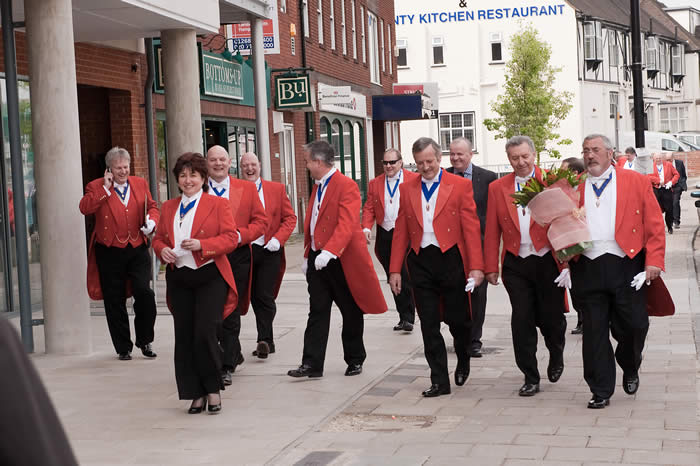 Toastmasters from the English Toastmasters Association on the way from Chelmsford's County Hotel to offer greetings and best wishes to the people of Essex with a presentation to the Chairman of Essex County Council at County Hall. This presentation was to thank all those concerned with the celebration of St. George's Day, 23rd April 2009. Our thanks go to David Islip of David Islip Photography for his help at our celebrations and for the photo above.

More details will follow about our fantastic day when we visited the Chairman of Essex County Council and had lunch with the Mayor and Mayoress of Chelmsford.
Our grateful thanks for your time and kindness.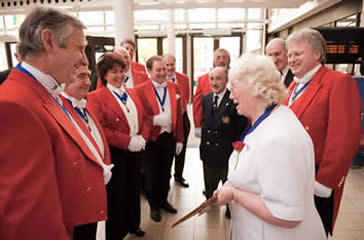 It was great to have the support from David Islip Photography. David kindly helped with the training at our meeting and was our official photographer for the day.
Excellent venue to celebrate New Year's Eve 2012 in Chelmsford
The best food and entertainment will ensure that you have a night to remember!
*** New Year's Eve 31st December 2014 ***
*** The Classic Nomad Disco and Light Show Experience ***
will be appearing at
*** The County Hotel, Rainsford Road, Chelmsford, Essex ***
The Classic Nomad Disco & Light Show Experience are delighted to appear at the
County Hotel Chelmsford for another stunning New Year's Eve Party 2014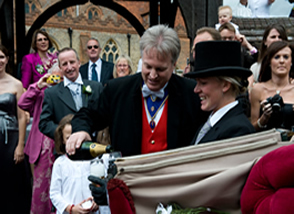 Essex wedding toastmaster- Richard Palmer pouring champagne for the bride and bridegroom outside St. Mary's Church, Great Baddow, Essex. Photograph is courtesy of
Essex Wedding Photographer David Court
If you are getting married in or around Essex and are looking for an Essex wedding disco for your special day please contact -
The Classic Nomad Disco & Light Show Experience for further details.
To book Richard's services as your town crier
please call him on
01245 237778 Home, 01245 222392 Office
or 07971 409977 Mobile at any time
Richard often appears as Chelmsford's Town, now City Crier
but will travel where ever you need him
Essex Towns and Villages
Here is a list of all of the towns and villages that are in Essex.
Over a period of time I will try to establish a connection with photographs and information, between each of the towns and villages around Chelmsford and how the County Town plays an important part in supporting the rural community
Abberton, Abbess Beauchamp and Berners R, Abbess End, Abbess Roding, Abridge, Acreland Green, Aimes Green, Aingers Green, Aldham, Almshouse Green, Alphamstone, Alresford, Althorne, Althorne Barns, Alton Park, Amberden End, Ardleigh, Ardley End, Arkesden, Ashdon, Asheldham, Ashen, Ashingdon, Audley End, Aveley, Aythorpe Roding, Bacon End, Bailey Hill, Baldwins Hill, Ballards Gore, Balls Green, Balstonia, Bambers Green, Bannister Green, Bardfield End Green, Bardfield Saling, Barling, Barling Magna, Barnston, Bartholomew Green, Basildon, Bata Estate, Bathside, Battlesbridge, Baythorn End, Beadle Common, Beauchamp Roding, Beaulieu Camp, Beaumont-Cum-Moze, Beazley End, Beckers Green, Beddalls End, Bedells End, Bedlars Green, Beeleigh, Begrums, Belchamp Otten, Belchamp St Paul, Belchamp Walter, Belhus, Benfleet, Bentfield, Bentfield End, Bentfield Green, Berden, Berners Roding, Bicknacre, Bicknacre Common, Billericay, Birch, Birch Green, Birch Wood, Birchall Corner, Birchanger, Bird Green, Birdbrook, Birds Green, Bishops Green, Black Notley, Blackheath, Blackmore, Blackmore End, Blacksmiths Corner, Blackwater, Blasford Hill, Boarstye Green, Bobbingworth, Bocking, Bocking Church Street, Bocking Place, Bockings Elm, Boisfield, Boreham, Borley, Borley Green, Bosted Heath, Bournebridge, Bournes Green, Bovingdon, Bower Hill, Bowers Gifford, Boxted, Boyton Cross, Boyton End, Bradfield, Bradfield Heath, Bradwell, Bradwell Waterside, Bradwell-on-Sea, Braintree, Braintree Green, Braiswick, Bran End, Brentwood, Brewers End, Brick End, Brickkiln Green, Bridge End, Bridge Green, Bridgefoot, Brightlingsea, Broad Green, Broad Street, Broad Street Green, Broadley Common, Broads Green, Bromley Cross, Brook End, Brook Street, Brookend, Brooklands, Broomfield, Broxted, Buckhurst Hill, Building End, Bulmer, Bulmer Tye, Bulphan, Bulphan High Bank, Bumbles Green, Bures, Bures Hamlet, Burnham-on-Crouch, Burnt Heath, Burnt Mill, Burntmill Corner, Burntwood End, Burrsville Park, Burton End, Burtons Green, Burwood Estate, Bush End, Bush End Common, Bushfair, Bushy Hill, Bustard Green, Butts Green, Buttsbury, Cambridge Town, Canes, Canewdon, Canfield End, Cannons Green, Canterbury Tye, Canvey Island, Carters Green, Castle Hedingham, Catmere End, Causeway End, Chadwell St Mary, Chalks Green, Chalkwell, Chapel End, Chapel End Way, Chapel Hill, Chappel, Chatham Green, Chatley, Chatter End, Chaureth Green, Chelmsford, Cherry Row, Chickney, Chignall, Chignall Smealey, Chigwell, Chigwell Row, Childerditch Street, Chipping Ongar, Chippinghill, Chisbon Heath, Chitts Hills, Chrishall, Chrishall Green, Church End, Church Gate Street, Church Hill, Churchend, Clacton, Clacton-on-Sea, Clatterford End, Clavering, Claydons Green, Cloghams Green, Cobblers Green, Cobbs Fenn, Cock Clarks, Cock Green, Coggeshall, Coggeshall Hamlet, Colchester, Cold Norton, Cole End, Colliers Hatch, Colne Engaine, Colneford Hill, Common Side, Cooks Green, Cooksmill Green, Coopersale Common, Coopersale Street, Copford, Copford Green, Coppins Wick, Copthall Green, Cornish Hall End, Cornsland, Corringham, Coryton, Courtsend, Cow Common, Cowey Green, Coxtie Green, Craigs End, Crawley End, Crays Hill, Creeksea, Cressing, Cripple Corner, Crockleford Heath, Crondon, Cross End, Crow Green, Crows Green, Cuckingstool End, Curling Tye Green, Curtis Mill Green, Cutlers Green, Daisy Green, Dalethorpe, Dammer Wick, Danbury, Daw Street, Daws Heath, Debden, Debden Green, Dedham, Deers Green, Delvin End, Dengie, Dewes Green, Didgemere Common, Dobbs Weir, Doddinghurst, Dovercourt, Dry Street, Duck End, Duck End Green, Duck Lane, Duck Street, Duddenhoe End, Dunton, Duton Hill, Dyers End, Earls Colne, East Donyland, East End, East Hanningfield, East Hanningfield Common, East Mersea, East Tilbury, Eastend, Eastend Green, Easthorpe, Eastmarsh Point, Eastwood, Edney Common, Eight Ash Green, Elder Street, Eldridge, Elkins Green, Ellis Green, Elmdon, Elmstead, Elmstead Heath, Elmstead Market, Elmstead Row, Elsenham, Elsenham Cross, Endway, Epping, Epping Green, Epping Upland, Eves Corner, Fairstead, Fanners Green, Farmbridge End, Farnham, Farnham Green, Farther Howegreen, Faulkbourne, Feering, Felsted, Fiddlers Hamlet, Finchingfield, Fingringhoe, Finkle Green, Fishers Green, Fobbing, Folly Green, Ford End, Ford Street, Fordham, Fordham Heath, Forrys Green, Foster Street, Foulness, Fox Hatch, Fox Street, Foxearth, Frating, Frating Green, Frinton and Walton, Frinton-on-Sea, Frogs Green, Fuller Street, Fullers End, Fyfield, Gainsford End Or Quys Green, Gall End, Galleyend, Galleywood, Galleywood Common, Gallow Green, Gaston Common, Gaston Green, Gaunts End, Gay Bowers, Gestingthorpe, Giffins End, Golden Cross, Goldhanger, Goldstones, Good Easter, Goose Green, Gooseberry Green, Gore Pit, Gosfield, Grange Hill, Gransmoor (Gransmore, Grass Green, Grays, Grays Chalk Quarries, Grays Thurrock, Great and Little Leighs, Great and Little Wigborough, Great Baddow, Great Bardfield, Great Bentley, Great Braxted, Great Bromley, Great Burstead, Great Burstead and South Green, Great Burwood, Great Canfield, Great Chesterford, Great Clacton, Great Dunmow, Great Easton, Great Hallingbury, Great Henny, Great Holland, Great Holland Common, Great Horkesley, Great Leighs, Great Maplestead, Great Oakley, Great Oxney Green, Great Parndon, Great Potton, Great Saling, Great Sampford, Great Stambridge, Great Tarpots, Great Tey, Great Totham, Great Wakering, Great Waltham, Great Warley Street, Great Wigborough, Great Yeldham, Green Street, Greenleaves, Greenstead, Greenstead Green, Greenstead Green and Halstead, Greensted, Greensted Green, Gubbions Green, Hadleigh, Hadstock, Hall Common, Hall Green, Hallingbury Street, Halls Green, Halstead, Hambro, Hamperden End, Hampits, Hanging Hill, Hanover Square, Hardings Elms, Hardys Green, Hare Green, Hare Street, Harknetts Gate, Harlow Tye, Hartford End, Harwich, Hastingwood, Hatfield Broad Oak, Hatfield Green, Hatfield Heath, Hatfield Peverel, Havengore, Hawbush Green, Hawkspur Green, Hawkwell, Hazeleigh, Hazelend, Helions Bumpstead, Hellmans Cross, Hempstead, Henham, Herongate, Heybridge, Heybridge Basin, High Beech, High Easter, High Garrett, High Laver, High Ongar, High Park Corner, High Roding, High Roothing, High Street Green, Highwood, Highwood Quarter, Hill Green, Hobbs Cross, Hockley, Hodings, Holbrook, Holden End, Holders Green, Holland on Sea, Holyfield, Hook End, Hope End Green, Hopes Green, Hordon on the Hill, Horkesley Heath, Horndon on the Hill, Horne Row, Hornestreet, Horseman Side, Horsley Cross, Hou Hatch, Hounslow Green, Housham Tye, How Green, Howe Green, Howe Street, Howegreen, Howlett End, Hullbridge, Hurst Green, Hutton, Hyde Green, Hythe Maltings, Ingatestone and Fryerning, Ingrave, Ingrave Green, Ivy Chimneys, Jaspers Green, Jay Wick, Kedington End, Keeres Green, Kelvedon, Kelvedon Common, Kelvedon Hatch, Kelvedon Hatch Common, Killems Green, Kirby Cross, Kirby le Soken, Knowl Green, Knox End, Laindon, Lamarsh, Lamb Corner, Lambourne, Lambourne End, Landermere, Langdon Hills, Langenhoe, Langford, Langham, Langham Moor, Langham Wick, Langley, Langley Green, Latchingdon, Latchmore Common, Latton, Lawford, Layer Breton, Layer Marney, Layer-de-la-Haye, Leaden Roding, Leadon Roding, Lee Chapel, Leigh Beck, Leigh on Sea, Leigh-on-Sea, Levels Green, Lexden, Lexden Heath, Lindsell, Lindsey Street, Linford, Linford End, Liston, Liston Hall, Little Baddow, Little Bardfield, Little Bentley, Little Braxted, Little Bromley, Little Burstead, Little Cambridge, Little Canfield, Little Chesterford, Little Clacton, Little Common, Little Dunmow, Little Easton, Little End, Little Hallingbury, Little Henny, Little Horkesley, Little Laver, Little London, Little Maplestead, Little Oakley, Little Oxney Green, Little Parndon, Little Potton, Little Sampford, Little Stambridge, Little Tey, Little Thurrock, Little Totham, Little Wakering, Little Walden, Little Waltham, Little Warley, Little Yeldham, Littlebury, Littlebury Green, Littley Green, Long Gardens, Loughton, Loves Green, Low Hill, Low Street, Lower Bobbingworth Green, Lower Dovercourt, Lower Green, Lower Nazeing, Lower Pond Street, Lower Road, Loyters Green, Lucking Street, Magdalen Green, Magdalen Laver, Maggots End, Maldon, Mallows Green, Malting Green, Mangapps, Manningtree, Manor Villas, Manuden, Marden Ash, Margaret Roding, Margaretting, Margaretting Tye, Mark Hall, Marks Hall, Marks Tey, Marylands, Mashbury, Matching, Matching Green, Matching Tye, Mayland, Maypole End, Messing-Cum-Inworth, Middle Common, Middleton, Middlewick, Milch Hill, Mill Green, Mill Hill, Millbeach, Millend Green, Millers Green, Millfield, Millhide Common, Minnow End, Mistley, Mistley Heath, Molehill Green, Monk Street, Moreton, Motts Green, Moulsham, Mount Bures, Mount End, Mountnessing, Mucking, Muckingford, Mulberry Green, Mundon, Myland, Navestock, Navestock Side, Naze Park, Nazeing, Nazeing Gate, Nazeing Marsh, Nazeingwood Common, Needham Green, Nether Street, Netteswell, Netteswell Cross, Nevendon, New England, New Mistley, New Quay, New Thundersley, Newlands, Newmans End, Newney Green, Newport, Newton Green, Nightingales Fields, Nine Ashes, Noblesgreen, North Benfleet, North End, North Fambridge, North Shoebury, North Weald Bassett, Northend, Northey Island, Norton End, Norton Heath, Norton Mandeville, Nounsley, Nupers Hatch, Old House, Ongar, Orsett, Osea Island, Ostend, Ostlers Green, Ovington, Oxen End, Oxney Green, Padhams Green, Padlers End, Paglesham, Pale Green, Panfield, Park Green, Parkers Corner, Parkeston, Parkeston Quay, Parsonage Green, Parsons Heath, Partridge Green, Paslow Wood Common, Passingford Bridge, Pattiswick Green, Peartree Green, Pebmarsh, Peldon, Penny Pot, Pentlow, Perry Green, Philpot End, Pierce Williams, Pig Street, Pilgrims Hatch, Pitsea, Pleasant Valley, Pledgdon, Pledgdon Green, Pleshey, Point Clear, Pollards Cross, Pool Street, Porters Town, Potter Street, Potton Island, Potts Green, Pouches, Powershall End, Princesgate, Priors Green, Prittlewell, Purleigh, Purlshill, Purton End, Puttock End, Puttocks End, Pyes Green, Queens Park, Quendon and Rickling, Quendon Street, Quickbury, Quys Green Or Gainsford End, Radley Green, Radleys End, Radwinter, Radwinter End, Ramsden, Ramsden Bellhouse, Ramsden Crays, Ramsden Heath, Ramsey and Parkeston, Ranks Green, Ravens Green, Rawreth, Rayleigh, Rayne, Redhill, Rettendon, Rettendon Common, Richmonds Green, Rickling Green, Ridgewell, Ringtail Green, Rivenhall, Rivenhall End, Road Common, Roast Green, Robinhood End, Rochford, Rodbridge Corner, Rogers End, Rolphy Green, Rook End, Roost End, Rose Green, Rotten End, Roundbush Green, Row Green, Row Heath, Rowhedge, Roxwell, Roydon, Roydon Hamlet, Rudley Green, Runsell Green, Runsell Hall Estate, Runwell, Rush Green, Rushley Green, Rye Hill, Sabines Green, Saffron Walden, Salcott, Sallets Green, Sand Hill, Sandon, Sandy Common, Sergeants Green, Sewards End, Sewardstone, Sewardstonebury, Shalford, Sheepcote Green, Sheering, Shell Haven, Shelley, Shellow Bowells, Shenfield, Shoeburyness, Shotgate, Shrub End, Sible Hedingham, Sibleys Green, Silver End, Skips Corner, Skye Green, Smiths Green, South Benfleet, South Green, South Hanningfield, South Heath, South Ockenden, South Stifford, South Weald, South Woodham Ferrers, Southchurch, Southend-on-Sea, Southey Green, Southminster, Southwoodham Green, Spains End, Springfield, St Botolphs, St Lawrence, St Osyth, St Vincents Hamlet, Stagden Cross, Stambourne, Stambourne Green, Stambridge, Stammers Green, Stanbrook, Stanesgate, Stanford le Hope, Stanford Rivers, Stansted Mountfitchet, Stanway, Stanway Green, Stapleford Abbotts, Stapleford Tawney, Starlings Green, Starthill, Stebbing, Steeple, Steeple Bumpstead, Stevington End, Stewards Green, Stickling Green, Stifford, Stifford Clays, Stisted, Stock, Stocking Green, Stockstreet, Stondon Massey, Stone, Stones Green, Stoneyhills, Stow Maries, Strethall, Stroud Green, Sturmer, Sucksted Green, Sunnymede, Sutton, Swallows Cross, Swan Street, Takeley, Takeley Street, Taverners Green, Tednambury, Temple End, Tendring, Tendring Green, Tendring Heath, Tenpenny Hill, Terling, Terlings, Thames Haven, Thaxted, The Downs, The Homesteads, The Hythe, Theydon Bois, Theydon Garnon, Theydon Grove, Theydon Mead, Theydon Mount, Thorndon Park, Thornwood, Thornwood Common, Thorpe Bay, Thorpe Maltings, Thorpe-le-Soken, Thorrington, Thorrington Heath, Threaders Green, Thrushes Bush, Thunderley, Thundersley, Tilbury, Tilbury Docks, Tilbury Green, Tilbury Hill, Tilbury Juxta Clare, Tilegate Green, Tilekiln Green, Tilkey, Tillingham, Tilty, Tindon End, Tinkers Green, Tiptree, Tiptree Heath, Tollesbury, Tolleshunt D'Arcy, Tolleshunt Knights, Tolleshunt Major, Toothill, Toppesfield, Totham Hill, Town Mead, Trapstreet, Trinity Square, Tumblers Green, Twinstead, Tye Green, Tylers Green, Tysea Hill, Ugley, Ugley Green, Ulting, Up End, Upper Bobbingworth Green, Upper Dovercourt, Upper Green, Upper Kirby, Upper Pond Street, Upshire, Vange, Virley, Wakes Colne, Wallasea Island, Walls Green, Waltham Abbey, Waltham New Town, Walthams Cross, Walton-on-the-Naze, Waltons, Warley Common, Wasses Corner, Water End, Waterhale, Waterhouse, Waterside, Wattons Green, Weald Gullet, Weeley, Weeley Heath, Weir, Wenden Lofts, Wendens Ambo, West Bergholt, West Hanningfield, West Mersea, West Thurrock, West Tilbury, Westcliff on Sea, Westlands, Wethersfield, White Colne, White Hall, White Notley, White Roding, White Roothing, Whiteash Green, Whiteditch Field, Whitehorse, Wicken Bonhunt, Wickford, Wickham Bishops, Wickham St Paul, Widdington, Widford, Wiggens Green, Willingale, Willingale Doe, Willingale Spain, Willows Green, Wimbish, Wimbish Green, Wimbush, Windmill Hill, Winter Gardens, Witham, Wivenhoe, Wivenhoe Cross, Wix, Wix Cross, Wix Green, Wood Green, Woodend, Woodend Green, Woodfield, Woodgates End, Woodham Ferrers and Bicknacre, Woodham Mortimer, Woodham Walter, Woodhatch, Woodhill, Woodland Green, Woodrow, Woodside, Woodside Green, Workhouse Corner, Wormingford, Wrabness, Wrights Green, Writtle, Wyatts Green, Wynbarns, Youngs End
Essex Wedding Venues
Tel 01708 688396 Abridge Golf and Country Club
Epping Lane, Stapleford Tawney, Essex, RM4 1ST
Tel 01277 373828 Ashwells Sports & Country Club
Ashwells Road, Bentley, Brentwood, CM15 9SE
Tel 01799 529403 Audley End House
Saffron Walden, Essex, CB11 4JF
Tel 01277 366687 / 362502 Blake Hall
Ongar , Essex, CM5 0DG
Tel 01621 855628 Boreham House
Main Road, Boreham, Essex, CM3 3HY
Tel 01376 352266 Braintree Town Hall
Market Square, Braintree, Essex, CM7 3YG
Tel 01621 892305 Braxted Park Estate
Braxted, Witham, Essex, CM8 3EN
Tel 01279 817056 Bury Lodge
Bury Lodge Lane, Stanstead Airport, Essex, CM24 8QE
Tel 01245 440005 Channels Golf Club
Belsteads Farm Lane, Little Waltham, Essex, CM3 3PT
Tel 01206 734301 Clarice House Colchester at Kingsford Park
Layer Road, Kingsford, Colchester, CO2 0HS
Tel 01206 500900 Colchester Arts Centre
Church Street, Colchester, CO1 1NF
Tel 01787 224343 Colne Valley Golf Club
Station Road, Earls Colne, Colchester,Essex, CO1 1QT
Tel 01376 572643 Crabbs Barn
Cranes Lane, Kelvedon, Essex, CO5 9AX
Tel 01621 783169 Creeksea Place
Ferry Road, Creeksea, Burnham-on-Crouch, CM0 8PJ
Tel 01376 584903 Cressing Temple
Witham Road, Braintree, Essex, CM7 8PD
Tel 01268 559772 Cromwell Manor
Watt Tyler, Pitsea, Essex, SS16 4UH
Tel 01277 841115 Crondon Park Golf Club
Stock Road, Stock, Ingatestone, CM4 9DP
Tel 01277 226418 De-Rougemont Manor
Great Warley Street, Warley, Brentwood, Essex, CM13 3P
Tel 01279 731441 Down Hall Country House Hotel
Matching Lane, Hatfield Heath, Bishops Stortford, Herts, CM22 7AS
Tel 01255 220450 Esplanade Hotel
27/29 Marine Parade East, Clacton-On-Sea , Essex, CO15 1UU
Tel 01702 279955 Essex County Hotel
Aviation Way, Southend on Sea, Essex, SS2 6UL
Tel 01376 324555 Fennes Estate
Fennes Road, Bocking, Braintree, CM7 5PL
Tel 01621 868888 Five Lakes Hotel
Colchester Road, Tolleshunt Knights, Maldon, CM9 8XH
Tel 01621 891406 Forrester Park
Beckingham Road, Great Totham, Nr Maldon, Essex, CM9 8EA
Tel 01268 543222 Friern Manor Country House Hotel
Lower Dunton Road, Dunton, Brentwood, CM13 3SL
Tel 07863 101517 Frinton on Sea Cricket Club
Ashlyns Road, Frinton on Sea, CO13 9ET
Tel 01277 355111 Furze Hill Banqueting Suite
Ivy Barn Lane, Margaretting , Essex, CM4 0EW
Tel 01992 560830 Gaynes Park Barns
Gaynes Park, Epping, Essex, CM16 7RT
Tel 01992 578332 Gills Farm
Epping Upland, Epping, Essex, CM16 6PL
Tel 01787 472914 Gosfield Hall
Gosfield, Halstead, Essex, CO9 1SF
Tel 01279 506475 Great Hallingbury Manor
Great Hallingbury, Bishops Stortford, Herts, CM22 7TJ
Tel 01277 829990 Greenwoods Estate
Stock Road, Stock, Essex, CM4 9BE
Tel 01277 811235 Halfway House
Southend Arterial Road, Brentwood, CM13 3LL
Tel 01787 463862 Hedingham Castle
Castle Hedingham, Essex, CO9 3DJ
Tel 08704 009003 Holiday Inn Basildon
Cranes Farm Road, Basildon, Essex, SS14 3DG
Tel 08704 009012 Holiday Inn Brentwood
Brook Street, Brentwood, Essex, CM14 5NF
Tel 08704 009020 Holiday Inn Colchester
Abbotts Lane, Eight Ash Green, Colchester, CO6 3QL
Tel 01702 559980 Hollywood Restaurant
140 Shipwrights Drive, Benfleet, Essex, SS7 1RF
Tel 01277 231439 Hutton Poplars Hall
Poplar Drive, Hutton, Brentwood, Essex, CM13 1YU
Tel 01245 496800 Hylands House
Hylands Park, Near Writtle, Chelmsford, Essex, CM2 8WQ
Tel 01277 353040 Ivy Hill Hotel
Writtle Road, Margaretting, Ingatestone, CM4 0EH
Tel 01702 551125 La Quinta
22-28 Benfleet Road, Benfleet, Essex, SS7 1QB
Tel 01206 330784 Layer Marney Tower
Near Colchester, Essex, CO5 9US
Tel 01206 323778 Le Talbooth Restaurant
Gun Hill, Dedham, Essex, CO7 6HP
Tel 01245 362 555 Leez Priory
Leez Lane, Hartford End, Chelmsford,Essex, CM3 1JP
Tel 01371 872857 Little Easton Manor
Park Road, Little Easton, Dunmow, CM6 2JN
Tel 01279 726554 Little Hallingbury Mill
Old Mill Lane, Gaston Green, Nr Bishops Stortford, CM22 7QT
Tel 01245 325959 Lords Golf & Country Club
Hullbridge Road, Rayleigh, Essex, SS6 9QS
Tel 01245 231515 Maidens Barn
Maidens Farm, High Easter, Chelmsford, Essex, CM3 1HU
Tel 07711 197947 Maison Renouf
Bradley way, Rochford, Essex, SS4 1BU
Tel 01206 322367 Maison Talbooth Hotel
Stratford Road, Dedham, Colchester, CO7 8HN
Tel 01206 210001 Marks Tey Hotel
London Road , Marks Tey, Colchester, CO6 1DU
Tel 01277 225252 Marygreen Manor Hotel
London Road, Brentwood, CM14 4NR
Tel 01245 435820 Maynetrees
56 New Street, Chelmsford, Essex, CM1 1NE
Tel 01208 500 2735 Metropolitan Police (Chigwell) Sports Club
High Road, Chigwell, Essex, IG7 6BD
Tel 01279 424074 Moot House
The Stow, Harlow, Essex, CM20 3AG
Tel 01277 211549 Mount Avenue Banqueting Suite
Hutton Masonic Hall, Mount Avenue, Hutton, Brentwood, CM13 2NS
Tel 01992523947 Mulberry House
Chelmsford Road, Ongar, Essex, CM5 9NL
Tel 01245 231010 Newland Hall
Roxwell, Chelmsford, Essex, CM1 4LH
Tel 01268 510111 Oysterfleet
Knightswick Road, Canvey Island, Essex, SS8 7UX
Tel 01279 829988 Park Inn
Southern Way, Harlow, Essex, CM18 7BA
Tel 01799 543800 Parklands
Quendon Hall, Quendon, Essex, CB11 3XN
Tel 01787 281707 Pentlow Tower
Pentlow, Sudbury, Suffolk, CO10 7JN
Tel 01279 876661 Pledgdon Barn
Pledgdon Hall, Henham, Bishop's Stortford, Herts
Tel 01245 476444 Pontlands Park Hotel
West Hanningfield Road, Great Baddow, Chelmsford, Essex, CM2 8HR
Tel 01376 573399/572175 Prested Hall
Feering, Colchester, Essex, CO5 9EE
Tel 01992 573138 Quality Hotel Epping
High Road, Bell Common, Epping, CM16 4DG
Tel 01206 230900 Ramada Hotel
A12/A120 Ardleigh Junction, Colchester, Essex, CO7 7QY
Tel 01702 318120 Rayleigh Windmill
Bellingham Lane, Rayleigh, Essex, SS6 7EO
Tel 01245 440005 Regiment Way Golf Centre
Pratts Farm Lane, Little Waltham, Chelmsford, CM3 3PR
Tel 01206 866 677 Rose and Crown Hotel
East Street, Colchester, CO1 2TZ
Tel 01279 661012S AS Hotel Stansted Airport
Waltham Close, London stansted Airport, Essex, CM24 1PP
Tel 01702 477327 Saxon Hall
Aviation Way, Southend-on-Sea, Rochford,Essex, SS2 6UN
Tel 01245 435820 Shire Hall
Tindal Square, Chelmsford, Essex, CM1 1EH
Tel 01787 374544 Smeetham Hall Barn
Smeetham Hall, Bulmer, Sudbury, Suffolk, CO10 7EU
Tel 01245 264564 South Lodge Hotel
196 New London Road, Chelmsford, CM2 0AR
Tel 01255 823057 St Osyth Priory
The Bury, St Osyth, CO16 8NZ
Tel 01763 279354 Stansted Manor Hotel
Birchanger Lane, Birchanger, Nr Bishop's Stortford , Essex, CM23 5ST
Tel 01277 653616 Stock Brook Manor
Queens Park Avenue , Billericay, CM12 0SP
Tel 01277 200885 Sugar Hut Village
93-95 High Street, Brentwood, Essex, CM14 4RR
Tel 01279 420246 Swallow Churchgate Hotel
Churchgate Village Street, Old Harlow, Essex, CM17 0JT
Tel 01371 830129 Thaxted Hall
Walden Road, Thaxted, Essex, CM6 2RE
Tel 01268 522828 The Belvedere
Hardings Elms Road, Crays Hill, Billericay, CM11 2UH
Tel 01787 472144 The Bull Hotel
Bridge Street, Halstead, Essex, CO9 1HU
Tel 01268 561234 The Chichester
Old London Road, Rawreth, Wickford, Essex, SS11 8UE
Tel 01376 561322 The Compasses at Pattiswick
Compasses Road, Pattiswick, Braintree, CM77 8SX
Tel 01245 455700 The County Hotel
Rainsford Road, Chelmsford, CM1 2PZ
Tel 01799 530515 The Crown House
London Road, Great Chesterford, Saffron Walden, CB10 1NY
Tel 01787 224466 The Essex Golf And Country Club
Earls Colne, Colchester, CO6 2NS
Tel 01279 442521 The Green Man Hotel
Mulberry Green, Old Harlow, Essex, CM17 0ET
Tel 01277 651816 The Ivory Rooms
66-68 Laindon Rd, Billericay, Essex, CM12 9LD
Tel 01255 812 343 The Kingscliff Hotel
55 Kings Parade, Holland-On-Sea, Essex, CO15 5JB
Tel 01702 203701 The Lawn
Hall Road, Rochford, SS4 1PJ
Tel 01268 544417 The Old Rectory
Lower Dunton Road, Dunton, Brentwood, CM13 3SW
Tel 01255 241212 The Pier At Harwich
The Quay, Harwich, Essex, CO12 3HH
Tel 01245 231800 The Reid Rooms
Marks Hall, Margaret Roding Great Dunmow , Essex, CM6 1QT
Tel 01376 516969 The Rivenhall Hotel
Rivenhall End, Witham, Essex, CM8 3HB
Tel 01245 231800 The Room in The Rodings
Ongar Road, Beauchamp Roding, Ongar, CM5 0PF
Tel 01799 522676 The Saffron Hotel
High Street, Saffron Walden, Essex, CB10 1AZ
Tel 01371 811596 The Stables
Spains Hall, Finchingfield, Braintree,Essex, CM7 4NJ
Tel 01255 504952 The Tower Hotel
Main Road, Dovercourt, Essex, CO12 3PJ
Tel 01245 223258 The Warren Golf Club
Woodham Walter, Maldon, CM9 6RW
Tel

01376 321401

The White Hart Hotel
Bocking End, Braintree, Essex, CM7 9RB
Tel 01787 237250 The White Hart
Poole Street, Great Yeldham, Halstead, Essex, CO9 4HJ
Tel 01621 828631 Three Rivers Golf and Country Club
Stow Road, Cold Norton, Chelmsford, Essex, CM3 6RR
Tel 01206 282200 Town Hall
High Street, Colchester, CO1 1FR
Tel 01376 326802 Unex Towerlands
Panfield Road, Braintree, Essex, CM7 5BJ
Tel 01621 855628 Vaulty Manor
Goldhanger Road, Goldhanger, Nr Maldon, CM9 8BQ
Tel 01992 717170 Waltham Abbey Marriott Hotel
Old Shire Lane, Waltham Abbey, Essex, EN9 3LX
Tel 01245 252000 Waterfront Place
Wharf Road, Chelmsford, CM2 6LU
Tel 01206 272300 Westwood Park
London Road, Little Horkesley, Colchester, Essex, CO6 4BS
Tel 01279 850603 Whitehall Hotel
Church End, Broxted, Essex, CM6 2BZ
Tel 01206 863666 Wivenhoe House Hotel
Wivenhoe Park, Colchester, CO4 3SQ
Tel 01440 762581 Woodlands Country Hotel
Coupals Road, Sturmer, Nr Haverhill, CB9 7UW
Tel 0208 500 2549 Woolston Manor Golf club
Abridge Rd, Chigwell, Essex, IG7 6BX
Last Updated 14.25hrs Saturday 1st October 2016
For Essex Wedding Professionals and Wedding Professionals in Essex see http://www.essexweddingprofessionals.co.uk